Has my order shipped?
No email/ not seeing movement on a label/ item has not shipped yet?
To log into your account: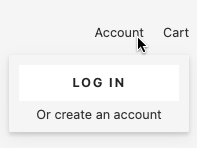 Don't have an account/don't want to create one? That's ok, you don't need an account, It can help you keep track of your order and shipping status.
If possible, please use the same email address used to place your order when submitting support requests. This will help us help you faster!
If you need further support on this or any other issue please submit a request or email us at support@thecosmoglo.com