Has my order shipped?
No email/ not seeing movement on a label/ item has not shipped yet?
To log into your account: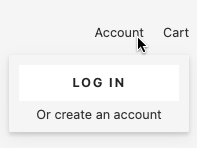 Don't have an account/don't want to create one? That's ok, you don't need an account, It can help you keep track of your order and shipping status.
- Please allow 48-72 hours for a response on weekends, Support hours are M-F 9:30am-4:30pm Central Time.
You may also email us at support@thecosmoglo.com any time!