Welcome to the CosmoGlo family!
Your new CosmoGlo is a sturdy, large piece of salon furniture that requires assembly. We recommend giving yourself plenty of time to set up and try out different heights, base positions, and halo angles to find the right positioning to suit your services and space.


Please follow the instructions closely. While each light comes with a 1-year warranty against manufacturer defects, cosmetic damages that occur during assembly are not covered.


Feel free to reach out to us if you need any help or advice during assembly. Be sure to include your name, order number and any relevant pictures or videos.



Assembly
Please watch the assembly video.
We advise laying your light down while assembling and following the steps that we provide in the video.
Loosen the clamp first to prevent scratching.
Secure your halo when attaching to the base plate to prevent it from swinging around freely.
Cosmetic damages that occur during assembly are not covered in your warranty.

Halo
Do not rotate the halo continuously in the same direction. Doing so will cause irreversible wire damage over time.
Please do not pull, rip, or apply unnecessary tension to your halo cord at any time during assembly.
The LED Shield
Your CosmoGlo light has a long LED strip inside the halo. The cording and electrical components should remain secured and inaccessible from the outside at all times.

The light shield covers the cording, brackets, and LED strip. The shield is frosted to diffuse light evenly, and "floats" to help air flow easier inside the lamp during use so as to reduce heat and moisture buildup.

Please do not disassemble your halo or remove the shield to attempt to adjust the wires or bulbs. Doing so may void your warranty.
Base
The four rubber feet on the bottom of the base are very important for the function of the cord; the gap between the rubber feet to allows the cord to untwist. If this is blocked the cord may become damaged from twisting around itself.


Please take caution to avoid cord tension by placing anything heavy on the base such as a table or bed.

Cords
Always be gentle with your cords; straighten them before assembly by running your fingers down the wire to remove any kinks to help it feed through the poles easier.
Avoid stepping on the baseplate when building, adjusting, or moving your light.

Power Box
We have a few styles of powerboxes - yours may have two connecting points as in the photo below, or be a single piece that plugs into the wall outlet, then into the light.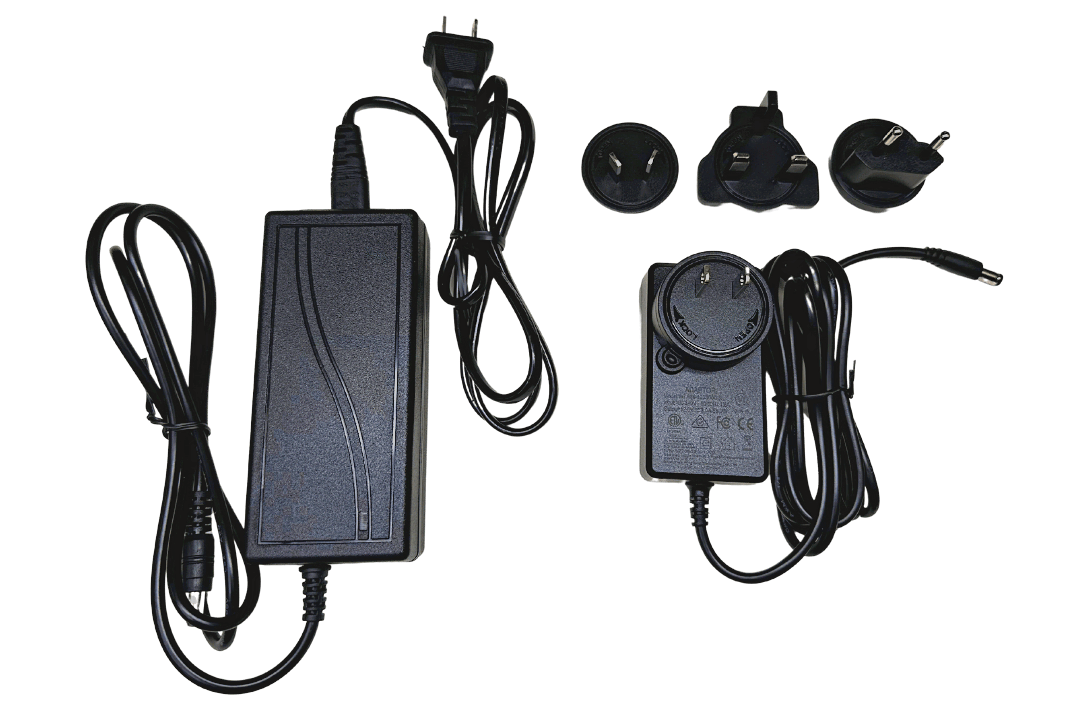 Use only the power box that came with your CosmoGlo Light.
Phone Clip
The rubber bands are designed to hold the phone in place on top of the clip and can be easily replaced. We recommend replacing them periodically with bands of a similar size which are widely available online or can be purchased directly on our website here.
If you notice wear and tear, the elasticity is compromised or not functioning as directed, please do not use the clip until the bands have been replaced.

Positioning

The light works best when it's positioned directly over the top of the base itself during services. The base, poles, and pivoting arm should resemble the letter "C" when set up for use.
Our light has a patented Double-Swing design (side-to-side complete 360-degree movement plus complete 360-degree halo rotation) to help your light banish shadows and keep the focus on your business and services.
Read more here: Setup and Positioning.



Cleaning
We do not recommend using harsh chemicals when cleaning your light. Instead, use lukewarm water with a dab of Dawn dish soap. Make sure to completely dry after cleaning. You can wipe down your light as well as the shield with a microfiber cloth.

If you are needing a more sanitary solution, we recommend using plastic barrier film between uses/clients. See the link below for an example:

https://www.instagram.com/reel/Co-mw2QpN5a/

Stiffness and Squeaks

We recommend lubricating the joints occasionally as part of regular care and maintenance of your light.
For any stiffness or squeaks, use a mechanical lubricant such as this one to help the joints with their movement. There are two main joints that move, one at the connection between poles and the L-shaped halo piece, and one where the halo rotates. Both can be lubricated to help with movement and eliminate sound.

Lift the light at the joint where the Halo piece connects with a barrel screw to the 3-piece telescopic poles, and apply generously all around the connection. Wipe off any extra and let sit for a few minutes, then move the whole light around 5 times in each direction. You may need to apply higher on the joint which will require unscrewing the screw to get to the inner pole.



Watch our reel for an example.
Find immediate information and faqs online through our Help Center.
Reach out to our support team if you need any help or advice with this topic, or any other issue.

Please include your name, order number and any relevant pictures or videos that will help us help you. If possible,

please use the same email address used to place your order

when submitting support requests. This will help us help you faster!